Every day, we're in contact with exotic, high performance sportscars. The prices of these cars go far beyond the 6 figures regulary. But we do now as well that not everybody is able to spend that much money to fulfill his dream of the perfect sportscar, no matter if we're talking about buying the car or "just" renting it. That's why we want to check if it's possible to get a real supercar for a fair price.
Top 5 affordable sportscars
First things first: Our criteria for a real sportscar is a dynamic design, 2 seats, at least 200 HP and a rear wheel/all-wheel drive.
Of course, there are other types like the Audi RS6 or Tesla Model S who are crazy fast on a straight road, but they're just not sporty enough.
So, which sportscars gives you the best bang for the buck?
5. Ford Mustang
A big V8, rear-wheel drive lots of coolness and a very masculine design – exactly what a cool sportscar needs! You can find older Mustangs on platforms like cars.com for around 5000€! To rent a Ford Mustang is also available for less than 200€.
4. Toyota GT86
Who prefers a modern car but still wants it to be a real sportscar should take a look at the Toyota GT86. A fast 6-Gear-Manual, rear-wheel drive and perfectly balanced – the perfect combination for enjoying every ride. Can be bought for around 13.000€, or just go ahead and rent a GT86 for a really cheap price.
3. Chevrolet Corvette
Just like the Porsche 911 is an idol for all German sportscar fans, the Chevrolet Corvette acts the same for Americans. Combining a huge V8-engine with a lightweight construction and even more impressing driving dynamics! The Corvette C4 can be found on several portals for round about 6000€, to rent a corvette is also possible for around 300€ a day
2. Porsche Boxster
Many call him a "women's car" even though this car has a lot of potential. A great mid-engine, lightweight construction and convertible rooftop creates lots of fun and emotions driving this Porsche. 5000€ is enough to get one of these, of course the Porsche Boxster is also rentable.
1. Nissan 350Z / 370Z
It´s not only that this car showed up in several Fast&Furious movies. The 350Z, or as the modern series is called: 370Z, is well known for delivering a superior driving experience. The manual gearbox in combination with the rear-wheel drive allows you to drift whenever you like to. If you don't have 100.000 bucks for the supercar Nissan GT-R, the Nissan 350Z / 370Z is definitely a great choice for you. The prices for our personal winner start at 5000€.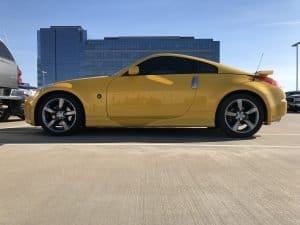 Of course, this list is just a small peak at all the opportunities of affordable sportscars. If you think that we forgot one, please let us know in the comments below.
In the next part of our blog series we'll be talking about the maintenance costs of sportscars in comparison to your usual daily driver.